Each and every client is unique. You come with your own set of concerns and your own strengths. For me, the joy of being a therapist lies in discovering therapy anew with each and every client. There are however, common directions in therapy and I have listed a few below:
unbearable feelings become manageable

areas that are too frightening / distressing to think about become "thinkable"

relating becomes more straightforward

it becomes easier to act in the way you want to as agency becomes strengthened

hamful self delusion dissolves to be replaced by realistic acceptance

enjoyment, pleasure and laughter increase.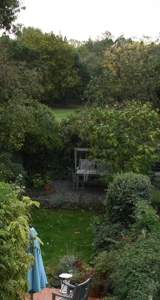 how long does it last?
How much does it cost?
How easy is it to get to you?
Sometimes a new perspective can be gained in a couple of sessions - and that is enough. Some people prefer to schedule a specific number of sessions - and others prefer an open, longer-term contract.
Fees are discussed in the first session and take into account the client's ability to pay.
I am easily reached by car, bus, underground and train.
BY CAR: Close to the A40 and the A406 (North Circular)
BY BUS: E2, E9. 226 and buses to Ealing Broadway.
BY UNDERGROUND: Ealing Broadway, Hanger Lane.
BY TRAIN: Paddington for Ealing Broadway
Find my consulting room on
streetmap