Psychotherapy and counselling offer time and attention for you to think things through. Talking to friends is useful and important, but friends often have their own opinions. It can be helpful and refreshing to spend time with someone who is removed from your everyday life and who can focus on helping you to explore your own perspective and needs. Once you are clear about where you are standing, it is much easier to find opportunities and solutions to problems that suit you. We are all different and so we need to find our own, individual way forwards.
In general, a counsellor will explore a specific problem that has arisen and will help you to find a way through to a solution. Counselling tends to be short term in comparison to psychotherapy, which seeks to undertake a broader exploration of the assumptions and re-occurring patterns that underlie the decisions that you have made and the way that you relate to people.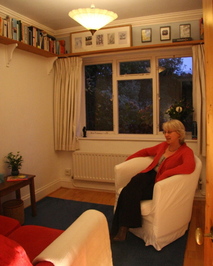 Lynne Holmes is a counsellor and psychotherapist in Ealing and Chiswick, West London.

I work with a wide variety of clients with many different problems, including:

Relationship Difficulty, Parenting, Work Problems, Redundancy, Loss, Depression, Grief, Divorce, Sadness, Stress, Anger, Pregnancy, Post Natal Depression, Childlessness, Health, Alcohol, Eating, Weight, Exercise and Body image, High Blood Pressure, Trauma, Sleeplessness.


Have a look through my website - and if you would like an appointment or to ask further questions about counselling or psychotherapy, please get in touch.e-mail